PAGE 3 CONTENTS
20.
Machine Dance for Conditioning
by eowdaoc
21.
Principle and Pattern For Success
by strongmanmikebruce
22.
Goal Setting
by strongmanmikebruce
23.
Excellence>Stagnation
by WeakandWimpy
24.
Never Miss a Workout..and Why
by Mark McManus
25.
The Degradation of Standards
by Unsu
MACHINE DANCE For Conditioning
By eowdaoc
I don't really know where to start, so I'll just start. I've been wanting to make this post for a long time because I feel really strongly about what I have to say here. This might not be the right forum to be posting this, so please move it if needed.
INTRO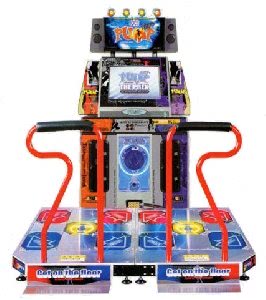 I'm sure most of you only know of this as "DDR" or "Dance Dance Revolution." This is a machine dance game. I know you're probably thinking "what the hell...," but read on and you might be intrigued.
I started playing machine dance around 4 years ago. Right now I play once or twice a week for conditioning/skills day. It is amazing for developing lower body anaerobic capacity once you get good enough to play hard shit. It has also strengthened my hips. I will admit it is a bit of a learning curve, but I know a lot of you enjoy a challenge. Like I said I've been doing it on-and-off for 4 years and I'm nowhere near the best. I still get to the point where my legs feel wobbly and I am completely gassed, so being "pro" is not required to get the benefits.
It is an extremely fun workout, and it emulates interval training very well. Around 2-3 minutes of going hard (for most songs) followed by less than 60 seconds of rest (you can rest as little as you want). I have noticed increased capacity for my legs to stay strong during minute drills and lower body workouts (while I am playing it weekly). It wears me out like crazy, comparable to running 400m, sometimes harder.
I also must mention (as a disclaimer, I suppose) that I don't give two shits about the music or "dancing." The game is an insanely fun physical and mental challenge and also develops really good eye-foot coordination. It is not anything like real dancing, but it does make you keep beat with your feet. Yes, some of the "official" music is just super shitty and feminine, but then again some of it is decent enough. Most people just play custom songs using ITG (shown below) though. Getting over the embarrassment of even playing the damn thing in public might be an issue for some, but since this forum is home to a lot of people who do exercises that cause people in the gym to stare and wonder, I think it's no biggie.
As a side note this has also helped develop my thumb grip (from holding the bar). In really intense songs it is like an isometric max strength thumb grip. No joke! I have also learned a lot about different notes in music and how to keep beat very well.
CLICK TO VIEW MACHINE DANCE LOCATIONS NEAR YOU
http://zenius-i-vanisher.com/v5.2/arcadelocations.php
Don't bother searching for each individual game. Just zoom-in to your area and see what you have nearby.
The games you want to be looking for are
Dance Dance Revolution (DDR)
,
Pump it Up (PIU)
, and
In the Groove (ITG)
.
DDR

= more geared towards beginners, only has a handful of difficult songs, and many of them rely on some memorization. 4-panel.

PIU

= has a wide range of difficulties, from easy to extreme. However, it is a 5-panel game, which makes things a bit different when learning it. Technique is focused on turning the body to hit interesting note patterns. Can definitely strengthen the hips. Is currently the only machine dance currently available in my area.

ITG

= wide range of difficulties. Technique is focused on minimizing foot movements and increasing speed. 4-panel. Allows custom user-made songs, which is why this one is the most popular, and contains the hardest songs of any machine dance game. This is my favorite.
Here are some vids showing a couple of world-class players. I definitely consider them to be athletes. Don't dismiss the anaerobic (and aerobic) conditioning required to do all of this bullshit just because they make it look effortless. That's only because they're insanely good. There is no flailing of the feet involved. You can clearly hear each tap.
This post will be updated as soon as I get together some more info I would like to share. Otherwise, Google is your friend.
My best advice is to just find one near you and start playing. There aren't really any tricks. Here are some basic tips, though:
Shoes with flexible soles that are light weight are recommended (ex. racing flats, "barefoot" running shoes). I currently use the Nike Free 7.0.
Always try to play with flat feet; avoid coming up on your toes like a tap-dancer.
Move your feet in a way that keeps them as close to each other as possible. This becomes more and more important as song difficulty increases.
Step firmly (not stomping) so you can hear your steps. This helps to keep beat.
Benefits:
lower body muscular endurance
foot speed
coordination and balance
anaerobic (and aerobic, depending on what songs you play) capacity
thumb strength (if you hold on to the bar)
hip strength
TOO SCARED TO PLAY IN PUBLIC?
http://www.flashflashrevolution.com/FFR_the_Game.php
Try learning how to play this with your fingers. It will help you read the arrows once you start playing on a machine.
Original Topic:
http://www.rosstraining.com/forum/viewtopic.php?f=1&t=59508